This is spARTa: meet Zero Effect
Hang on for a minute...we're trying to find some more stories you might like.
The student-led band Zero Effect played a live music set at PV Palooza on April 13.
Their set consisted of Bryan Adams' "Summer of '69" and Maroon 5's "Daylight", along with other country, pop, and rock songs.
Members of the band include PV students Trevor Glaum, Jonathan Glaum, Craig Richard, and Alyse Zuiderveen as well as Sam Adams from Moline High School, Grant Ellingson from Morning Star Academy, and Josh Schmeichel from Bettendorf High School.
Trevor Glaum plays a multitude of instruments. He started playing the piano in first grade, and he still takes lessons. He also plays the trumpet, guitar, and bass guitar. In addition to playing the bass for the band, he also organized the band's performance, supplied equipment for the sound system, and setup the stage with the help of his brother, Jonathan Glaum, and a sound engineer.  
Jonathan Glaum has a similar musical background to his brother. Jonathan started playing the piano in kindergarten, picked up the drums in third grade, and has played trombone in band since 6th grade. He started transitioning to more keyboard/piano hybrid instruments in 6th grade by playing on the worship team at Coram Deo.   
Jonathan Glaum showed his abilities by playing two keyboards and the keytar during Zero Effect's performance. Additionally, he provides everything the band needs from a technological standpoint through two programs; Ableton Live and Mainstage 3.
Zuiderveen found her love for singing when she started singing in church choirs in preschool. "I feel that music is a way of expressing how I'm feeling," Zuiderveen said. She spends her free time singing in jazz choirs, babysitting, serving at church, biking, and spending time with her family and friends.
Richard began taking drum lessons in fourth grade. In sixth grade, he joined the Pleasant Valley band on percussion and excelled early, making the Southeast Iowa Bandmasters Association Honor Band in seventh and eighth grade.
Richard gave insight into what he thought of Zero Effect's performance. "Our performance at PV Palooza was great. It was the best run-through of our setlist, and I heard awesome feedback on how great we sounded," Richard said.
Their performance helped raise $1,000 for the Children's Therapy Center of the Quad Cities.
About the Writer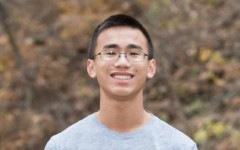 Nathan Wong, Opinion Editor
My name is Nathan Wong, and I am the opinion section editor for the Spartan Shield Online. I am a senior at Pleasant Valley High School. I am a captain...