The case of the freshmen takeover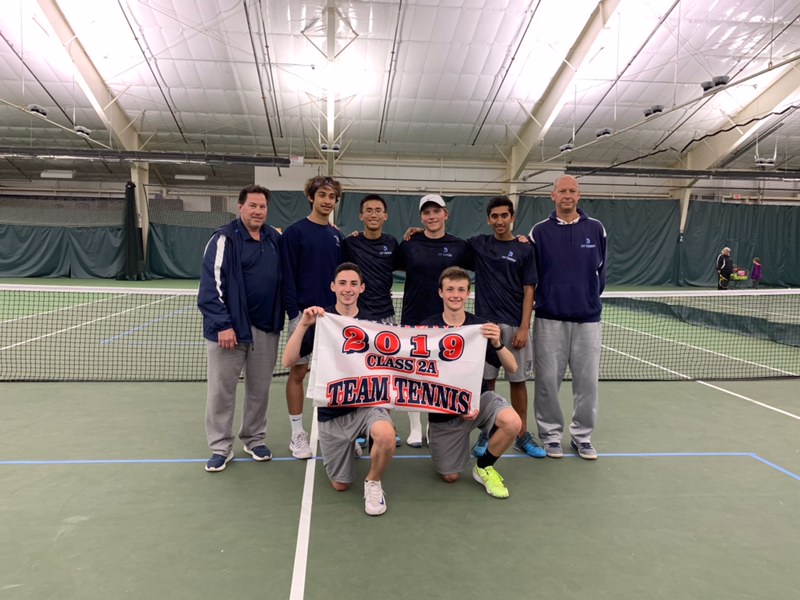 Spartan Nation's athletics have been abundant in success this year. Surprisingly, a lot of this can be attributed to the newest members of these athletic teams: the freshmen.
Tennis
One freshman, Brady Adams, has had an outstanding season in boys' tennis at Pleasant Valley. His first tennis season at the high school has been phenomenal and exciting; qualifying for the state meet was a very large accomplishment for him.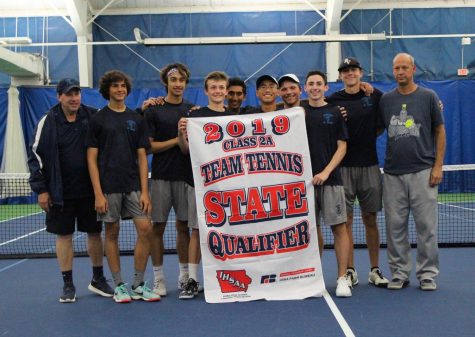 At the boys' district tennis meet, Adams was set to play singles. "Although I was nervous to [play] because it was my first time playing singles, I went in confident and I played loose –it ended up paying off," stated Adams. "I can't wait for state and the challenging matches ahead."
Adams' astounding season can surely be accredited from the help of his team. During the off-season, the tennis team had been working together to ensure each teammate can push each other to secure their road to state.
Sehlin is extremely proud of his–and his teammates–accomplishments. Of the freshmen, he said, "They have helped us improve our roster after [former player] Mark Kessler graduated and [former teammate] Pratheek Botlaguduru moved to Texas."
The tennis districts mean was structured with two brackets–one bracket for doubles and one bracket for singles. After all the teams played each other in the finals, the top two people and teams were selected. In turn, six members from Pleasant Valley qualified.
Senior Justin Sehlin and Adams played each other in the singles match. Jake Dolphin, another impressive freshman, and senior Nathan Wong played against Kiran Marla, a junior, and Muneeb Nadeem, a senior, in the finals for doubles.
Dolphin, a striking freshman athlete, has done amazing things this season. Two highlights of the season for Dolphin were being able to send all six members of the varsity team to state as well as qualifying for doubles with his partner, Wong.
Golf
In girls' golf, freshman Erika Holmberg has had much success.
Just in her first season of high school, Holmberg medaled in six meets: half of them being first place awards. With being runner up at MAC and having a ranking of one of the top best players in 4A, it is safe to say Holmberg has had a successful season.
Holmberg won runner up at MAC both as a team and individually as well.However, this result did not come easy. "There was never a day that we didn't have practice," said Holmberg. "If it was rainy, we practiced inside."
Many of the girls dedicated extra time before or after practice if they felt they needed to golf more. Outside of practice, Holmberg and many other girls would even attend the Davenport Country Club or Crow Valley Country Club to practice on their own.
Holmberg stated that one of her high points of the season was medaling at the largest invitational of the season. "That was just when I felt my game click, and everything seemed to be going the way I wanted it to with my swing," said Holmberg. "It was an incredible feeling to be shooting close to the same scores as some of the best high school golfers in the state."
One of Holmberg's teammates, Liz McVey, also had an outstanding golf season. Like Holmberg, McVey appreciated the communal aspect of their golf team. "I love everyone on the team and how I always feel so included, and everyone always makes me laugh," McVey said.
Team dinners were amongst McVey's favorite parts of the season because of the different environment: off of the golf course, where the girls could relax and get to know each other on a deeper level. The balance between team bonding and extensive practice had brought McVey and Holmberg as well as their teammates to the success they had achieved this past season.
Platinum
Pleasant Valley Platinum Dance team's Ashlyn Schmidt performed a state solo this past year. Shortly following Schmidt's Platinum audition, she received an email stating she was one of the top six members of the team. Ecstatic about the honor to receive a dance solo at state, Schmidt began practicing her solo approximately three months earlier than she typically would have.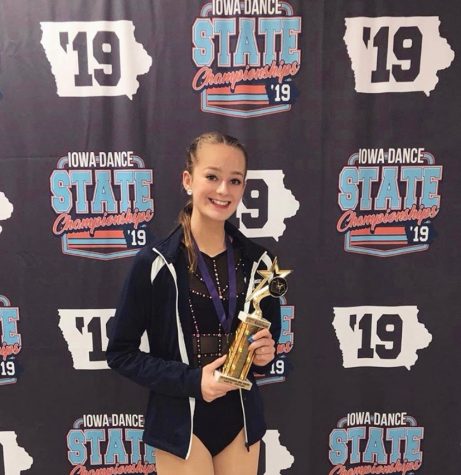 Schmidt's solo was rehearsed every other day for six months straight. Leading up to state solos, she gave her all in regular classes and received an enormous amount of feedback from Pleasant Valley Platinum coaches in addition to her studio coaches.
Feeling confident in her abilities, Schmidt was ready to step on stage at state solos but was still understandably nervous. "As I stepped on the stage, I was terrified, but once the music started, all of my nerves went away," said Schmidt.
While dancing, Schmidt's goal of placing in the top twelve dances drove her to give her all. "Dancing on that stage felt absolutely exhilarating, and I was very proud of my performance," she stated.
"I was very nervous come awards time, and became even more anxious when I received a D1 rating–which meant that I was eligible for placing in the top twelve," Schmidt said. "When they called my name for the tenth place spot, I was overwhelmed with joy."
Swimming
Freshman Abby Buechel stood out amongst others on the Pleasant Valley Girls Swimming and Diving team. Over the course of her freshman season, Buechel dropped a lot of time in her events and holistically improved in many areas.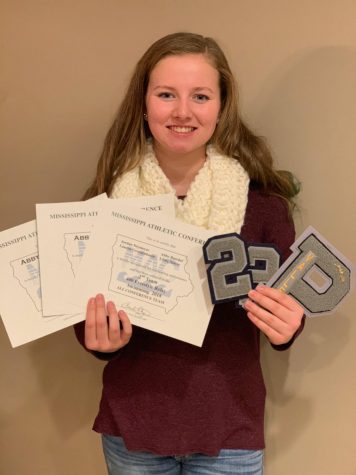 Buechel qualified for state in the 200 yard freestyle race and the 100 yard freestyle race. After competing well in the first session of racing, Buechel returned back to race in the finals for her 200 yard freestyle.
After practicing with the high school team from early August to November, Buechel had met her fair share of obstacles. With swimming being one of the longer sports season, much dedication and commitment is needed to stick with the grueling practices. Yet, amongst the harder times, there were better ones, and this is what was so important to Buechel.
"My teammates were one of the main reasons why this season was so incredible," said Buechel. "The swim girls are so amazing and helped me accomplish so many goals and were the best support system ever."
Basketball
Freshman Addie Kerkhoff has had an impactful basketball season. This year, the girls varsity basketball program went 21-1.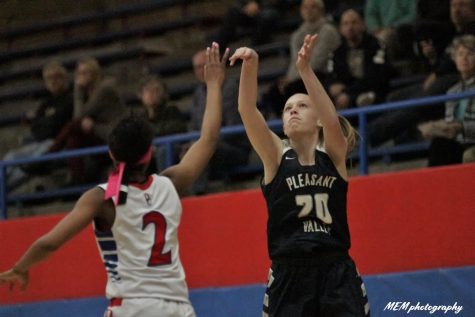 Kerkhoff was pushed in each individual practice by older players; she credits her work ethic, positive attitude as a team, and unselfish plays all to the time and hard work she spent with her teammates.
A highlight of Kerkhoff's was her first varsity basketball game at Davenport Central where she got points. Participating as a varsity member of the girls basketball team at Pleasant Valley prepared Kirkhoff for her freshman soccer season, in the spring of 2019.
"This experience has helped me transition to varsity soccer this spring in that I understand a bit more what is expected for a high school varsity sport, and that each and every player has an integral role in the success of the team," stated Kerkhoff.
Playing varsity impacted Kerkhoff in ways beyond physical level; her headspace has changed as a result of the work she has had with her teammates by her side. She said, "I have learned to adapt more as a player both physically and mentally — as you get older, the physical aspect of the game becomes more challenging, so it's adjusting to that, trying to play stronger and quicker than the competition."
Soccer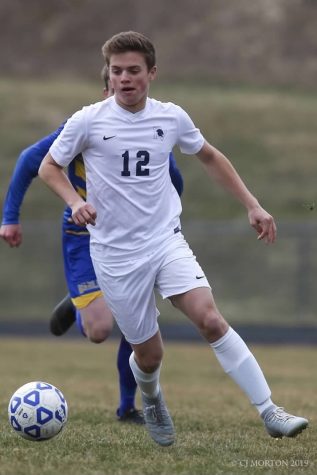 The boys' soccer team won the MAC conference this year; they were undefeated this season and did not let in a goal from any other team. Pleasant Valley beat Bettendorf High School 3-0 and set the record for the most team goals in the school's history. Freshman Bryce Reubel had the pleasure of competing on this varsity team this season.
Reubel found the season exciting and is proud of having seven goals for the team; starting as a freshman player is also a highlight of his. However, his success has been greatly impacted from older players.
"The seniors have taught me how to be a leader and bring everyone together as one team," said Reubel. Working diligently with his team has also helped him become quicker with the ball and make more effective decisions. "Hopefully I can use this knowledge [of teamwork and leadership] when I become an upperclassmen."