Marvel's Sticky Situation
Hang on for a minute...we're trying to find some more stories you might like.
One of the highest grossing Marvel movie sequels, The Spiderman series featuring beloved actor Tom Holland, may soon co me to an end because of a failure to get a new deal done with Sony. 
Disney wanted to split profits 50/50 with Sony because the company was previously only receiving five percent of the first dollar gross and profits from Spiderman merchandising. This move prevents Spiderman from being part of any Avengers movies and has many Marvel fans angered. Fans say that Spiderman was the supposed heir apparent as the face of Marvel after Iron Man's death in "Avenger's Endgame". 
Holland, who blew up internationally after his role in "Homecoming" has come out to say that he will "continue playing Spider-Man" whether it be for Sony or Disney. "The future for Spider-Man will be different," he said, "but it will be equally as awesome and amazing, and we'll find new ways to make it even cooler." 
Sony has a somewhat steady track record of rolling out successful Spiderman movies. Each movie in the "Spiderman" trilogy earned more than $750 million and together, made almost $2.5 billion. Although "The Amazing Spiderman" sequel did not do well, the recent solo "Into the Spider Verse" movie performed really well at theatres and is one of the most anticipated sequels due to the success of the first movie. 
Senior Aadil Manazir said, "Given that Disney already earns profits from toys and collectibles, I feel that Disney should have just remained with the previous agreement. That way fans would now be happy." Another student who feels the same about the situation is junior Owen Jones.
Jones commented that while he is disappointed that a new deal was not able to be done, "Marvel should be blamed for this disaster of a deal. It is a lose-lose-lose because Marvel will not be able to profit from or use Spiderman in their movies. Fans around the globe will not be pleased, and the Sony Spiderman movies will probably be lower quality than the Marvel ones, judging by their past movies".
However, a glimmer of hope remains for Marvel fans. Disney reportedly has until mid 2020 to renegotiate the deal with Sony, and there have been rumors of a new deal taking place. Despite this unlikely negotiation, when asked about if he wanted the deal to happen, Jones replied, "I sure hope so".  
About the Contributors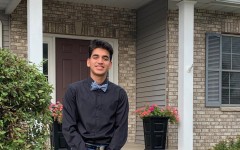 Darsh Balani, Technical Site Manager
Darsh Balani is a Technical Site Manager for the Spartan Shield. He loves playing tennis and basketball in his off time. Darsh enjoys playing Minecraft...