Unprepared or unbelievable bad luck: The curse of the volleyball state qualifier
Pleasant Valley girls volleyball has started off their season strong with their goal in mind: to punch their ticket to the state tournament in November after years of being so close. 
The Spartans have claimed dominance yet again this season in the MAC conference with a current undefeated record. Every year, despite a strong conference run, the volleyball team seems to see the same fate. 
Senior, Sarah Hoskins, has been far too familiar with this ending. "It just sucked," she said. "We worked so hard and the pressure got to us." 
Last season ended for the third year in a row with a heartbreaking loss in the regional final. "These Iowa City teams are talented," said Hoskins. "Unfortunately our conference does not always prepare us for what may come our way postseason." 
Although there has been a lot of hope lost year after year, the team continues to stay as positive as ever. "Pressure this year does not impact us as much as it used to," Hoskins said. 
As with most sports, volleyball players will say their sport is extremely mental. Senior, Ilah Perez-Johnson, who has recently committed to Cornell College to continue her volleyball career, said, "This year we have been going to yoga as a team and have been having a lot of mental talks to help prepare us for bigger games."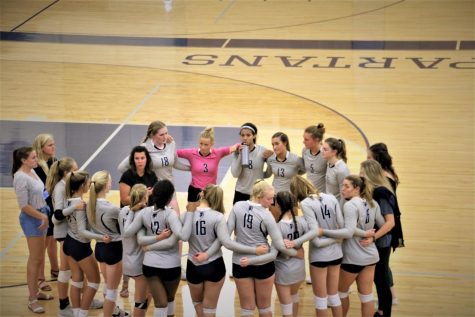 Having strong goals can be the pivotal reason for a winning season. "Solo MAC champions and making it to state are the top ones on the list," said Hoskins. Perez-Johnson added, "Maintain top 8 rankings into the postseason so we will end up with better match-ups." 
The team said their talent and potential is the best they have had in years. With a good balance of fun and focus, they are confident they can achieve their goals.
"I love practicing with some of my closest friends and pushing each other," said Hoskins as she was comparing floor burns with fellow teammate, Sunny Wolfe. While that may seem to many like a weird thing to do, such humor makes this team closer than so many others.
One thing the team always seems to remember, win or lose, is how to have fun. Before the season starts, the program puts on a camp for their junior high and high school players and they always have, as the players call it, "pretty extreme dress-up day."
Both Hoskins and Perez-Johnson agree, one of their favorite memories from this season is just practicing drills. "I absolutely love switching positions and watching my teammates try their hardest," Hoskins said. "Sometimes it can work out and sometimes it can end up very funny."
With the curse of the state qualifier looming in the back of their minds, the girls are choosing to focus their efforts on their skills and team morale in the hopes that it brings them one step closer to their ultimate goal.