Athletic trainer recognized for impact on community
"The Road to Championships Passes Through These Doors" — these words are boldly displayed above the main entrance to Pleasant Valley's weight room. But there is another, slightly smaller door PV athletes must often pass through on their road to success.
Countless athletes have walked through the door of the athletic trainer's room, seeking the help of Jason Viel. Whenever they complain of a swollen ankle or sore back to their coach, it is never a surprise for them to immediately hear, "Go see Viel." As the head trainer for the past 12 years, Viel has been a vital contributor to all of Pleasant Valley's athletic programs.
The Iowa High School Athletic Directors Association (IHSADA) recognized Viel for his work by announcing him as the 2020 Sports Medicine Person of the Year. Viel was humbled to receive the award, saying, "[I] could not do it without the help and collaboration of all the coaches, teachers, administration, players and parents in the PV community, along with the support of my fellow ATs and coworkers."
PV's activities director D'Anne Kroemer nominated Viel for the award last fall, believing his qualities as a trainer made him stand out. "His ability to build relationships, genuine love of athletics, approachability and the fact that he bleeds blue and grey separates Viel from the rest," Kroemer commented. She considered his work to be a great benefit to the PV community, adding, "He works with [students and parents] anywhere from six to eight years. He connects with families … and cares for the well-being and safety of all athletes."
Junior Matt Mickle was one of the athletes who benefited from Viel's help. Mickle was playing a football game against Cedar Rapids Prairie last fall when he went down with a knee injury. "Viel told me about a previous athlete with a similar injury … he was out for about three weeks," Mickle remarked. "Mine was the same, if not worse." With Viel's assistance, however, Mickle was able to be back on the field in less than two weeks.
"[Viel] gave me a lot of advice and methods for things I could do for a fast recovery," Mickle said. "I think he cared a lot about getting me healthy as soon as possible and made sure I was back on the field as soon as I was fit."
Viel has also made an impact on students outside of helping them recover from injuries. Senior Jackson Moats plans to pursue a career as an athletic trainer after high school.
Moats partly attributed his decision to when he saw Viel's effect on other students. "Viel influenced me by helping my friends come back from injury … I wanted to be a part of a job that helped other people," Moats said. He also enjoyed simply hanging out in Viel's office before or after practice. "He's just a great guy to talk to and be around," Moats added. 
Moats intends to study exercise science at Central College — Viel's alma mater — in Pella, Iowa this fall.
The IHSADA will present Viel with the award on Feb. 14 at PVHS, during halftime of the boys basketball game.
About the Contributor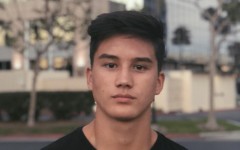 TJ Brown, Copy Editor
TJ Brown is currently a senior at Pleasant Valley High School and a very active member in various activities for the Spartans. Brown is involved with the...