Max Murphy: Iowa Gatorade Player of the Year
The Gatorade Player of the Year Award is given to participants all across the United States  for their selected sports — this includes football, basketball, volleyball, soccer, track and field, softball/baseball and cross country.
Requirements for each athlete chosen for this award include their athletic excellence, academic achievement and exemplary character shown and recognized by other coaches or the school they play for.
Max Murphy has been selected for this award because of his athletic performance in both the class 4A state meet with a time of 15:29.3 and he also placed fourth at the Nike Cross Nationals Heartland Regionals Championships. The qualifications don't stop there for Murphy as he has devoted some of his time to volunteer at local Bettendorf animal shelters and other local running events.
Academic excellence is also a key aspect in choosing which athletes are chosen for the award, Murphy's 4.11 cumulative GPA set him apart from other contenders. He has signed a letter of intent for running at the University of Iowa for the next four years. 
Murphy attributes much of his success to the other cross country runners. "My teammates have always motivated me and pushed me to be better all throughout high school," he said. Murphy shows his appreciation for his teammates — as well as his coaches and program — to push himself to be the top athlete that he has worked to be.
"Pleasant Valley's cross country program has offered a culture where everyone enjoys running and Coach Belby has made me really enjoy running by always helping me improve," Murphy added. They offered dynamic styles of assistance to Murphy and his teammates during and after the season. 
Belby has provided many athletes — including Max — opportunities to compete at the Division I collegiate level through his commitment to the program for the last 20 years comes with hard work; he has produced results within this past year alone.
Fellow seniors Ian Kaffenberger and Kent Nichols have committed to the University of Northern Iowa to run track and field, exemplifying the commitment and success that the Pleasant Valley cross country program has provided for its runners in the present and foreseeable future.
About the Writer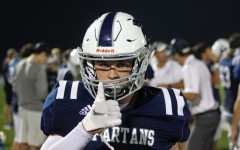 Blake Sherman, Photo Manager
Blake Sherman, a student athlete at Pleasant Valley High School, is a fun, kind and motivated person who enjoys spending time with friends and family as...