Students say yes to the (prom) dress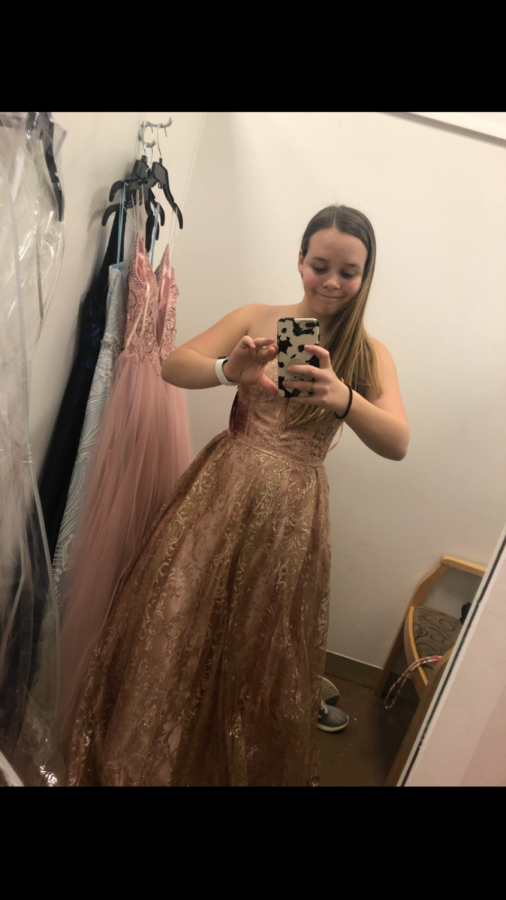 Manicures, pedicures, hair-dos, make-overs, accessories, heels and the dress are all factors of dressing oneself for a school dance. For school dances, specifically prom, the dress is a very important piece for making prom a night to remember.
With prom being about two months away, many girls at PVHS have already started looking for their prom dresses. They make it a priority to find the perfect dress for the special occasion.
Some students wait until time is running out to find their dress, but there are others who make their dress choice sooner. Junior Macey McKinnon picked out her prom dress in late January and didn't travel very far to find it. 
At the local Dillards, McKinnon went shopping with some friends and found the dress she really liked. "The second I tried it on, I knew it was the one," she emphasized.
However, the process of picking the perfect dress is not always easy. "It was kind of hard to pick out the right dress because I was overwhelmed with all the options," said McKinnon.
There are many different shops around the area that offer different selections of prom dresses, but many students travel further in order to find the dress they desire.
Junior Gabby Mowbray recently decided on her prom dress for the year. She browsed at the LeChic Prom and Pageant Dress Boutique in Muscatine and found a dress she really liked. Mowbray loved the selection and was happy that she went. "I went to this shop because my sister has bought a dress from there before and they have really pretty and unique dresses," she stated.
Mowbray also discovered it can be a handful trying to find the dress just right for her. "One thing I was specifically looking for was the color," said Mowbray. "I like more jewel tones because I have dark hair and light skin so I looked for purples, blues, greens and deep reds."
There are also some people who find the perfect dress online. Senior Denai Hill started looking at prom dresses on Pinterest in late November, but officially bought her dress in January. "I got a dress that looked perfect on picture and I loved it! Especially in person," she said.
"The process was actually really fun because I made an entire Pinterest board dedicated to prom last year and I've been adding to it whenever I like something," said Hill.
Since prom is a considerably important night for many high school experiences, the variety of dress outlets are helping ensure that more girls will be able to say yes to the dress. Prom is on May 2 and many girls are looking forward to dressing up for the special occasion and truly making it a night to remember.
About the Writer
Lena Ahrens, Social Media Manager
Lena Ahrens, 18, is a senior at Pleasant Valley High School and was born and raised in the Quad Cities. Ahrens enjoys spending time with her friends and...