Student athletes continue to connect from afar
Many athletes' spring sport has been cancelled for the rest of the year following the coronavirus pandemic sweeping the globe.
Many students and coaches were puzzled and upset after learning all spring sports seasons (track, tennis and soccer) — and potentially summer sports (baseball and softball) — may not take place this year. Regardless, many athletes and their coaches are using apps such as Zoom and Skype to further communicate.
These video chats — made by teams across the nation — serve to not only inform, but also comfort every student affected by the drastic cancellation of spring sports. 
Seniors have especially been affected. Holyn Doran, who has been in track and field for four years now, was devastated by the news. "It's been very disappointing for all the senior girls who are not able to run this year including me," she said. "I feel for them, and I hope that Zoom meetings will help us all heal from this awful event to take over the track season."
Doran lamented over the many opportunities taken away from this year's seniors; many of these athletes are now questioning their future in sport. 
Other seniors have been distressed by the cancellation, including track runner Tommy Ashby, who has been running since seventh grade. "It's disappointing for everyone on the track team, especially seniors, to be going through this difficult time," he commented. "There has been some reclaim of goodness through this by making Zoom chats to be more connected to one another and to talk about the situation."  
Ashby, like other athletes,  is upset by the pandemic sweeping across the globe, but has remained hopeful by connecting with others on his team. 
There have been many alternatives suggested to make sure the spring athletes can compete; but if the virus continues to spread, seasons will only get pushed back. Hopefully, society may soon go back to "normal".
About the Writer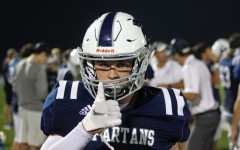 Blake Sherman, Photo Manager
Blake Sherman, a student athlete at Pleasant Valley High School, is a fun, kind and motivated person who enjoys spending time with friends and family as...