REVIEW: Maturation and missed opportunities in Season 2 of "The Politician"
After releasing its first season just this past fall, Ryan Murphy's fantastical political satire "The Politician" is already back for its second season on Netflix.
Progressing past the high school presidential race that the first season followed, the new episodes, set two years in the future, see protagonist Payton Hobart (Ben Platt) run for New York State Senate against incumbent Dede Standish (Judith Light) and her snarky campaign manager Hadassah Gold (Bette Midler). Madness, both political and non, quickly overcomes both candidates' campaigns.
With the introduction of Light and Midler this season, a cast that was already quite phenomenal reaches new heights. They play the show's two antagonists delightfully, and are the perfect contrast to Ben Platt's talented cohort of young screen-partners that are returning from the first season, namely Laura Dreyfuss, Lucy Boynton, and Julia Schaepler. 
As far as costume and set design, the glowing bubblegum hues of the first season are no longer a main focus. Instead, the clothing and surroundings of the characters mirror their maturation; they have progressed from their youth in the grips of affluence in Santa Barbara to adulthood in New York City. Colors are still used boldly, but now in more sophisticated forms and muted shades that are built into unique outfits for the characters' eccentric personalities.
This season, though a relatively enjoyable watch, struggled to dive deep into ideas that could have made the show a political rallying cry for Gen Z.  The poster issue for Payton's campaign is climate change, but instead of taking a solid stance on the subject, the show takes a cynical approach. We see Payton and his staff promoting climate action on stage, but then watch them privately make fun of climate protesters and discuss the issue only as a means to reach polling success. The show is, of course, a political satire, but it has dived so deep into its own disenchantment that it can't find its way back up to figure out when genuineness could be an asset. 
Credit must be given, however, for the few moments where they do let some political education rise to the surface. There is a moment where cultural appropriation is brought up and described in an understandable way, as well as a scene where the zero-waste lifestyle of a side character is outlined. The strength and potential impact of these two situations alone underlines the effect the series could have if it had plunged more wholeheartedly into this idea.
The series also continues to stumble on an issue that plagued its first season: messy and unnecessary plot lines. While side plots are sometimes necessary to keep audience attention, the web that "The Politician" weaves throughout its seven episodes is so tangled it almost becomes difficult to keep everything straight. The inconsequential relationships of side characters muddy the main plot line, while multiple sabotage attempts and unexpected pregnancies seem to serve no other purpose than building shock value and maintaining engagement.
Underneath all of its issues, however, season two of "The Politician" can be quite entertaining, despite one's best efforts not to give in to its insanity. That insanity is what the series thrives on, what makes it more intriguing than most of the teen shows pumped out by streaming giants. Nevertheless, if the show's obsession with cynicism and shock value cannot be overcome by its few genuine moments, that insanity will also be its downfall.
About the Contributor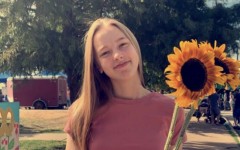 Alyce Brown, Arts and Entertainment Editor
Alyce Brown is the Arts and Entertainment section editor for the Spartan Shield Online. She's  thrilled to be able to share news from the PV community...