Platinum makes school history at state dance awards
When it comes to making school history, the members of the Pleasant Valley Platinum dance team have been there and done that. Within the last two seasons alone, they have done it over three times. 
During the 2019-2020 season, members of the dance team made history twice: once at state solos when then freshman Josie Kaffenberger clenched PV's first state solo gold, and once again at the 2020 team championships where they became the first team at PV to achieve 10 state titles.
But instead of settling with their successes, Platinum took it upon themselves to go out and make school history – again. 
On Thursday Nov. 19, Platinum traveled to Wells Fargo Arena in Des Moines, Iowa to compete at the 2021 Iowa State Dance and Drill Team Association (ISDTA) championships. Due to COVID-19, many things about this year's competition looked different. Arguably the biggest difference included merging the solo and team competitions so they then took place on the same day and at the same location.
Fortunately for the six dancers chosen to represent Platinum at state solos, the changes to the competition did negatively affect them or prevent them from making school history for the third time in two years as all six placed in the top ten for the first time ever.
Sophomore Reagan Glaus placed ninth, senior Louie Conn placed fifth, sophomores Emma Richards and Kylie Crome tied for third, freshman Maci Quam earned the silver and Kaffenberger, now a sophomore, landed on top of the podium defending her state title. By defending her title, she made school history for the second year in a row as PV's first two-time, and first back-to-back, state solo champion.
Kaffenberger, who serves as Platinum's co-captain, admitted to being incredibly stunned once the results were announced. "It took a while for it to hit me that I had won state solos for the second time," she said. "I made history again, and I was way more than happy."
Glaus agreed awards made her incredibly happy. "When they announced my name I was very excited. It was for sure a day I [will] never forget," she reflected.
Going into the state, both Kaffenberger and Glaus had goals for themselves, and both wanted to place. However, with roughly 66 other dancers in their class, the road to the top ten would not be an easy one. 
Preparation for this year's competition began months before Platinum's six soloists performed. After learning their routines in early summer, they put many hours of rehearsal into their schedules.
It was Glaus' first time on the state solo floor, so she wanted to be prepared. "I worked very hard on my solo practicing [during] all the time I had both in and out of the studio," she commented. "The six of us always ran our solos before practice on Mondays and Wednesdays in front of each other which I think helped a lot."
Despite returning as the reigning champion Kaffenberger was not overly stressed about defending her title. "My mindset going into solos this year was more 'whatever happens happens,'" she explained. "In my mind, I knew that I had won the title once and there were so many amazing dancers that could win it this year."
Instead of only wishing for herself to end up in the top ten, the two-time champion was more hopeful that all six dancers would place together. Luckily for Kaffenberger, her wish came true as Platinum dominated the Class IX solo category. 
As for next year's state solo competition, Glaus is already thinking of ways to improve. "One of my goals if I get a state solo again is to place higher in the top 10," she said. "I want to work even harder than I did this year and be even better."
Aside from making history at solo awards, Platinum as a whole made school history again as they added an 11th state title to their name. The dance team was announced as state champions in Class XII Pom beating cross-town rival Bettendorf by over two points and cementing their back-to-back status. 
Kaffenberger expressed her admiration of her team and how proud she is of them. "Lots of dance teams are seen through their features in a dance or an individual person, but Platinum is another level," she said. "We don't have to do thousands of tricks to make up time in a routine. [My teammates] never fail to amaze me."
Whether or not Platinum will continue their history making next season is unsure, but Kaffenberger believes it is entirely possible. Right now however, the state champions are soaking in their win and are grateful that circumstances have allowed them to have such a successful season.
About the Contributor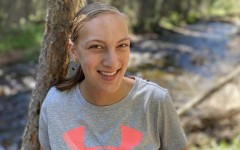 Elizabeth Pischke, Copy Editor
Elizabeth Pischke is an involved senior at Pleasant Valley High school, and serves as a copy editor for the Spartan Shield.  At school, Pischke is a member...