Forward progress: How a woman broke gender boundaries on the world's biggest stage
According to Yahoo News, this year's Super Bowl reached over 96.4 million viewers. While many were watching football, others might have noticed something a little more special. 
Sarah Thomas has been breaking gender boundaries for a long time. In 2015, she became the first woman to referee a National Football League (NFL) game, in 2019 she became the first woman to referee a NFL playoff game and on Feb. 7 she became the first woman to referee the Super Bowl. 
To many her presence during the game came as a surprise. Junior Barrett Lindmark, PV's quarterback, spoke on his reaction to seeing her. "I had known she was a NFL referee for a few years, but I didn't see anything leading up to the Super Bowl about her getting the job. It was great to see," he said. 
When asked by CNN when she first got the NFL job, Thomas spoke on how she was treated by her coworkers and players. "The guys don't think of me as a female. They see me as just another female," she said. 
This pattern of inclusion is likely to trickle down from the example set by the NFL to the collegiate, high school and youth levels of the game.
Senior Kellen Hornbuckle, PV's starting varsity tight end for the past three seasons, elaborated on his comfortability playing alongside a female referee. "I wouldn't feel any different, it is no different than playing for the men who have officiated my games since I started playing in elementary school," he stated. 
Thomas' role this past weekend will surely be celebrated by many. However, she is not the only female trailblazer in male dominated sports.
In 2014, Mo'ne Davis put on quite a show at the Little League World Series baseball tournament. Per Bleacher Report, she threw 55 pitches in 2.1 innings, struck out six batters and allowed only six hits and three earned runs. 
Just this past fall, another Sarah made history in sports. Sarah Fuller of Vanderbilt University led the Women's soccer team to a conference championship, but also became the first female to score in a "Power 5" college conference game. 
If the patterns set by Mo'ne Davis, Sarah Fuller and Sarah Thomas continue, young girls will finally have the opportunity to look up to powerful female figures in male dominated sports.
About the Contributor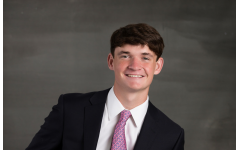 Alex Thorne, Business Manager
Alex Thorne is currently a senior at Pleasant Valley and will serve as the Business Manager for the Spartan Shield. Alex has a twin sister, Anna, who is...