Things to get your high school boyfriend/girlfriend for Valentine's Day
As Valentine's Day approaches, many people across the country are planning romantic gestures and dinner reservations for the 14th. The pressure is on for the night to be great.
However, a common theme surrounding Valentine's Day is the struggle to figure out what to get your partner for the big day. In fact, Valentine's Day is often regarded as one of the most stressful days of the year.
It is even harder for those in high school relationships to figure out what to get their significant other. If they spend too much money it may look like they are taking the relationship a little too seriously, but if they don't buy anything it may look like they are just playing their partner. 
In order to save the readers some embarrassment this year, two lists have been compiled of the best gifts to buy your boyfriend or girlfriend in order to knock it out of the park on Feb. 14th.
The lists are ranked in no specific order aside from price and should simply be used as suggestions. After all, each relationship is different and nobody knows your partner better than you. 
What to buy for your boyfriend:
$: A gift card to his favorite restaurant 
Nothing says I love you quite like food. A boyfriend would certainly be very appreciative of a gift card to his favorite restaurant. Some suggestions of restaurants would be Chick-Fil-A, Buffalo Wild Wings or Taco Bell. Some popular Quad City restaurants to buy from would be Central Standard and Biaggi's.
$$: Athletic clothing
This gift is more geared towards an athletic boyfriend, but a wide variety of guys would be very grateful if they received new workout clothing. Most guys work out at least a few times a week, so you can be sure your gift while be put to use right away. Suggest brands to shop from are Nike, Lululemon, Under Armour, and Reebok. 
$$$: The Playstation 5
While this option would certainly take a strain on your bank account, if you want a man to fall in love with you this is your best option. The Playstation Five is sold out in all major retailers, so you can almost guarantee he would be shocked when he opened it on Valentine's Day. 
What to buy for your girlfriend:
Free Option: A playlist of songs that make you think of her
High school relationships can be tough, but one way to simplify this is to simply tell her how you really feel. Nothing would do this better than a playlist of songs that make you think of her, and the best part is that it is free!
$: Flowers
Although a little cliche, flowers are always a good bet. They are super easy to pick-up or be delivered. Depending on how much you want to spend you can find cheaper ones at stores like Hy-Vee and Target and more expensive ones at locally owned shops like Colman Florist in Davenport. 
$$: A weighted blanket
This gift idea became popularized by the ever growing social media site TikTok. These blankets can be incredibly comfortable, increase sleep time, and lower anxiety/nerves. The blankets range in weight, but a good suggestion is a 15lb blanket. 
$$$: Jewelry
For a man to buy, there is arguably no gift that says a relationship is getting serious like jewelry. Whether it be a necklace, ring, pair of earrings, or a bracelet, jewelry is always a homerun. Retailers like Pandora have a wide variety of options. If you wanted to stay local however, a store such as  Revell Jewelers would offer great premade or custom options.
About the Contributors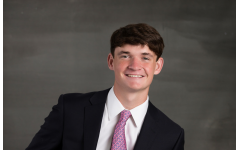 Alex Thorne, Business Manager
Alex Thorne is currently a senior at Pleasant Valley and will serve as the Business Manager for the Spartan Shield. Alex has a twin sister, Anna, who is...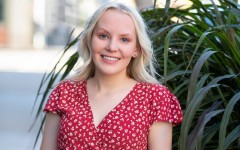 Ingrid Hofmann, Editor-in-Chief
Ingrid Hofmann is a senior at Pleasant Valley High School and serving as the Spartan Shield's Editor-in-Chief this year. She is a involved student, participating...