PV football: The return of young stars
Throughout the history of the PV football program, they have accomplished some great things. In the five prior to this year, they won many games and sent two athletes to play at the division one level.
This past season, the Spartans had an unprecedented and undefeated regular season, making it to the state tournament for the first time in 24 years. Many of the players who contributed will make a return in next year's season and beyond. 
One player who had a large impact on the field was sophomore Andrew Depaepe. The 6-foot-6 defensive end recorded 21 solo tackles. With five of them being sacks, Depaepe led all 4A sophomores in state rankings. 
These stats have led Depaepe to receive lots of college interest. In the past week, he received his first three offers from Kansas State University, the University of Iowa and Iowa State University. Being only a sophomore, it is expected that he will be receiving many more offers in the near future. Countless other coaching staffs have reached out to Depaepe including The University of Washington, Wisconsin and Michigan State.
Because Depaepe is so young and the National Collegiate Athletic Association (NCAA) has strict rules regarding the recruiting process, he has found it difficult to communicate with coaches. "In order to talk to coaches, I have to call them myself because they cannot contact me until junior year. Only the recruiting coordinators can reach out to me as of now."
His teammates, Rusty VanWetzinga II and Caden McDermott, also had standout seasons. VanWetzinga earned third team All-State honors along with playing a big role for the Spartans as a middle linebacker. McDermott was a top sophomore in many stat categories including receiving and rushing yards. 
These are only a few of the players who are expected to carry large roles for the Spartans in the coming years. 
The Spartans all-conference quarterback, junior Barrett Lindmark, will also return after his breakout season this past fall. As the leader of the offense and a future team captain, Lindmark expects a lot out of his team for the fall of 2021. "Our expectation is to be a top team in the state and make a run back at the dome. With the pieces coming back and the classes coming up I believe we can have another successful season," he stated.
About the Contributor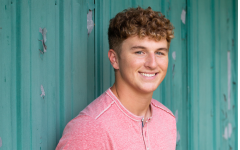 Seth Clausen, Photo Manager
Senior Seth Clausen is one of two photo managers for the Spartan Shield. In addition to his duties for the Shield, he loves being outdoors, hanging out...