What's happening with homecoming?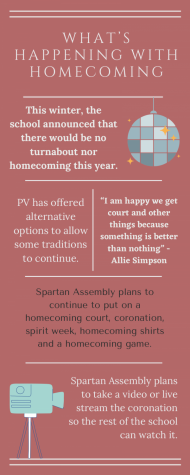 In the past year, students have missed out on two school dances: homecoming and turnabout. Students had hoped that returning full-time would also mean the return of dances, however, this idea was quickly shot down.
In the fall, the school announced that homecoming would be postponed to April. This left students hopeful for a turnabout, prom and delayed homecoming. However, this winter, the school announced that there would be no turnabout nor homecoming this year. 
The social committee, who is in charge of dances, along with the guidance of the administration decided against a dance. 
Despite cancelling the dance, PV has offered alternative options to allow some traditions to continue. Spartan Assembly plans to continue to put on a homecoming court, coronation, spirit week, homecoming shirts and a homecoming game. 
Spartan Assembly still wanted to give students some sense of tradition and normalcy. Zach Miller, advisor, is hoping to make the year the best it can be for the students. "Even if PV cannot hold a dance, we want to give anything else we can in replacement," he stated.
However, homecoming festivities will look different than previous years. For example, Spartan Assembly had to forego the homecoming carnival and parade this year, due to social distancing. 
Homecoming court and coronation will also look different this year . Unlike the usual assembly that takes place each year, Spartan Assembly plans to take a video or live streaming the coronation so the rest of the school can watch it, as the school is unable to have assemblies due to the school's rules and the Center for Disease Control and Prevention's (CDC) social distancing guidelines. 
While Spartan Assembly is planning to continue with the usual activities if a homecoming dance is not allowed, Darren Erickson, principal, is not positive about anything regarding prom or homecoming for this year. "I hope we can give students the usual festivities, but we are not completely sure about any dances or court or the carnival this year," he said. 
Senior Kellen Hornbuckle is appreciative that the school will be hosting some of the usual homecoming festivities. "I'm not upset at all about not getting a dance, I have never enjoyed them a ton and they're too expensive," he stated. "I am really excited that we get [a] spirit week and [having a] court should be fun."
Senior Allie Simpson is also thankful for the opportunity to have some aspects of homecoming, albeit a bit upset that the dance will not be happening. "I am upset that we don't get a homecoming dance. It's our senior year and the last time to really go all out, if I would've known that last year was our last homecoming I would've gone more all out," she explained. "I am happy we get court and other things because something is better than nothing."
There has been a lot of uncertainty all year about what events the students would get. They have missed out on so much the past year, many are happy with what they can get. While homecoming, prom and activities are not promised, PV will do what they can to allow students to have some of the past normalcy.