Dorm living: How residence halls aid in a smooth transition to adulthood
The lifestyle that students have while living in dorms in college is unlike any other. Living in dorms in college is a unique experience students will only have once.
Residence halls are the perfect place for students to meet people and build relationships that can last a lifetime. While the demographic of people living in dorms is widely varied, they all share the common experience of adjusting to life at college, making it easy for students to meet and talk to people who they may not otherwise associate with. 
Being surrounded by people who are going through similar experiences can also help students with the transition into college life. Moving away from home can be very scary for a student who has lived with their family for their whole life, and adding college-level coursework on top of it has the ability to make for a very turbulent first few months for college freshmen.
PV alum Roshni Patel is a freshman at the University of Iowa and has found that living in a dorm has allowed her to have a more smooth transition into the college lifestyle. "It makes it a lot easier to
 meet new people at the beginning of the year, which can be really stressful since you're already in a new environment and stressed about classes," she shared. "It's also super convenient and helps me get everywhere on time since I tend to always run late."
While most students find dorms to be the best place to call home
 during freshman year at their universities, some are turned away by the lack of home-like features. The average dorm room is around 200 square feet, making it smaller than most bedrooms students would have had in the house they grew up in. 
On top of that, many students live with a roommate, which takes up half of the little living space they are provided. While living with a roommate is an enjoyable and fun experience for some, many students prefer to live on their own. Many residence halls also have communal bathrooms, which can be a negative aspect in the minds of students.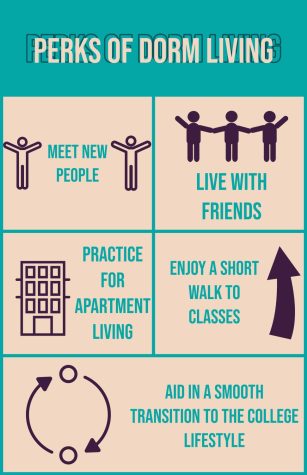 Living in dorms may not be ideal for all students, but it is ideal for universities in terms of profit. Providing as little living space as possible while charging high amounts for room and board allows universities to accumulate large sums of money from students in areas other than tuition. 
UC Santa Barbara is one example of a school that provides student housing with profit in mind. The university recently announced plans for a "mega dorm" that would house upwards of 4,500 students, 94% of whom would not have access to a window in their small, single-bed dorms. This project faced much backlash, with many calling it inhumane. 
While schools like UCSB are looking to capitalize on student living, others are more concerned with the overall happiness of their students on campus. New York University is one of few  as it does not require freshmen to live on campus like most universities do. Not requiring freshmen to live in campus housing allows students to immerse themselves in the university however they choose, rather than being bound to living in dorms.
Patel also discussed how dorm living is, at times, challenging and restricting. "It can be challenging at times especially if you have a roommate," she mentioned. "No matter who it is, you're going to get frustrated with them at one point or another since you're both living in such a small space together."
While deciding where to live at college may not seem like a big deal to some, it makes a huge difference in students' experiences with transitioning to the college lifestyle. Dorm living is an experience students will only have once, and it can prove to be very rewarding in terms of building relationships. Finding the right place to live on campus is exciting, and for first-year students, it is vital to make the decision that is right for them.