Celebrating PV prom couture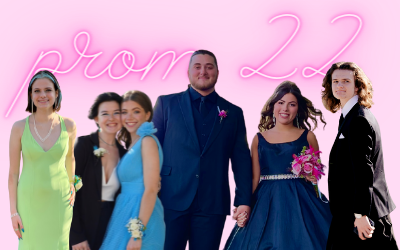 The highly anticipated PV Prom 2022 brought with it a vast array of beautiful ensembles as students spent the night expressing their truest selves. Disclaimer: everyone looked absolutely stunning on May 7; this is just a snapshot list of the gorgeous looks displayed that evening.
Aidan Kilstrom/Ryan Johns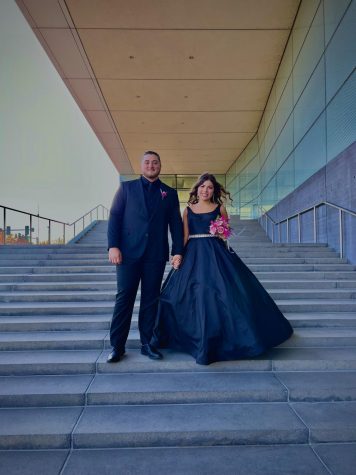 Seniors Ryan Johns and Aidan Kilstrom showed up ready to melt hearts at their last dance. The pair captured timelessness with their noir look. Kilstrom's suit, tie and dress shirt were head to toe black, and Johns' billowing black ball gownballgown tied at the waist with a bejewelled belt. Their hot pink accent bouquet and boutonniere gave a pop of their playfulness to the evening. What a perfect pair.
Charles Budan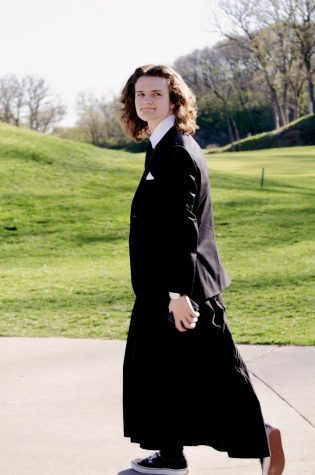 Eye-catching as ever, junior Charles Budan took to the dance floor with a perennial black suit jacket and vest on top and a tailored black ankle-length skirt on bottom. His effortlessly curated ensemble exemplified his style intelligence. Budan is unafraid of trying new things, and androgynous fashion is something he admires and has experimented with for some time now. As a Vans aficionado, Budan made sure to complete the look with his favorite iconic sneaker.
Jake Dolphin/Julia Wanek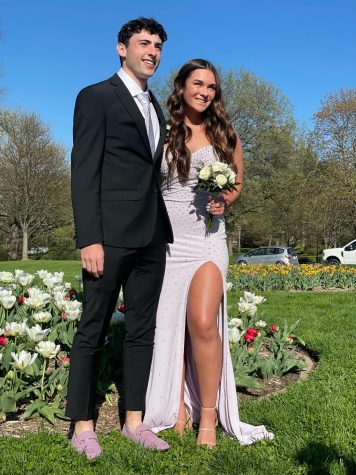 If the shoe fits, you better dance. Senior Jake Dolphin's prom fit was an elevated modern take on a classic suit and tie. A monochromatic lavender shirt and tie under his black suit gave an eye-catching pop of color, but what takes the cake with this look are Dolphin's mauve velvet loafers. Senior Julia Wanek looked stunning in a matching lavender dress adorned with rhinestones and the same whimsy as her beautiful long brown curls.
Chloe Isbell/Bella Vondracek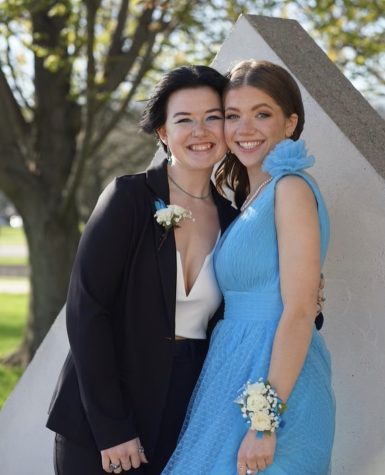 Seniors Chloe Isbell and Bella Vondracek painted all our skies the brightest blue with their sweet prom outfits. Isbell looked beautiful in a bright blue tulle gown with a tulle flower on the shoulder and delicate pearl jewelry. Vondracek paired their classic black suit with a white silk top and a pop of blue eyeshadow in her inner corner to match Isbell. Truest blue.
Emma Vaaler/Andrew DePaepe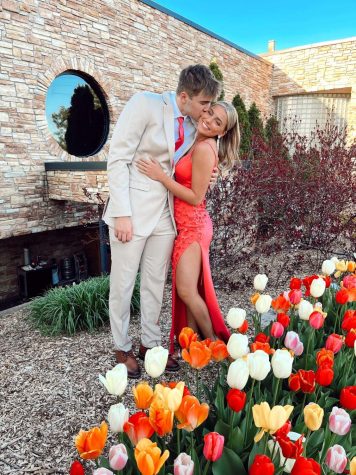 April showers bring May flowers, and junior Emma Vaaler may just be the brightest blossom this season. She made jaws drop at her vibrant coral floral gown – even Mother Nature picked her tulips to match this beautiful look. Junior Andrew DePaepe tied the whole look together with his matching coral accessory.
Grace Habben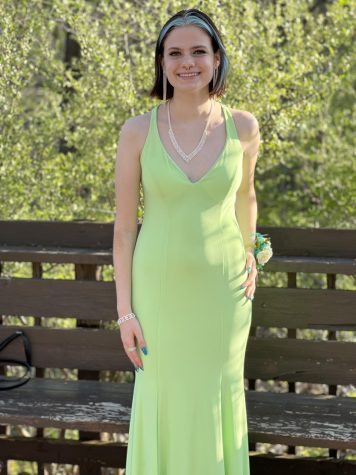 Junior Grace Habben was bottled lightning in her neon green prom dress. The dress's classic silhouette was contrasted with its bright contemporary lime color, and she alluded back to the timeless design with 1920s-inspired jewelry. Thise electric look caught eyes all across the dance floor, winning her Best Dressed Girl at the dance. 
Habben's incredible look embodied her personality perfectly. "I liked the funky color of the dress and built from there." She described, "My favorite part of prom was talking to all my friends who I don't get to see as often. My dress definitely helped that because it wasn't super poofy, so I could walk around and talk to people easier." This social butterfly spread her wings as the belle of the ball at prom.
Tommy Glennon/Nora Zimmerman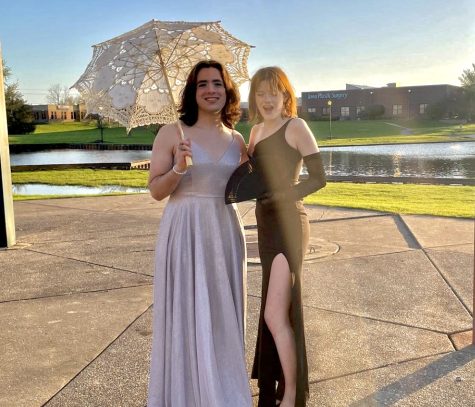 Junior Tommy Glennon was showstopping on prom night. His glittering silver gown was the hit of the evening, winning him Best Dressed Guy. He accessorized with a gorgeous lace parasol, shimmering eyeshadow and a pearl bangle. Glennon shared, "I was inspired by people like Lizzo, who has effectively pioneered the body positivity movement, proving people of all body shapes can look amazing in a dress, and Harry Styles, who thrust men in dresses into the spotlight."
He continued to reflect on the night, "I loved having the confidence to talk to so many people and to be in an environment where I felt that people truly cast their notions of social hierarchy away and just had fun." The prom magic was certainly in the air that night… and the sparkliest glitter on the floor after the party was Glennon's. "That was only enhanced by the confidence my dress gave me and the love and positivity so many people showed me."
Best friend junior Nora Zimmerman also took the cake as a jawdropper that evening. Her fitted black gown, opera gloves and lace fan stopped numerous hearts in the ballroom. Absolutely ravishing.
Erika Holmberg/Ethan Belby
Seniors Ethan Belby and Erika Holmberg stepped out in ultraviolet perfection. Belby's sharp gray suit was paired with a deep purple tie and purple boutonniere to accompany Holmberg's purple bouquet. The real eye-catcher of the look had to be her amethyst colored gown covered in sparkling purple beading. 
Kylie Gill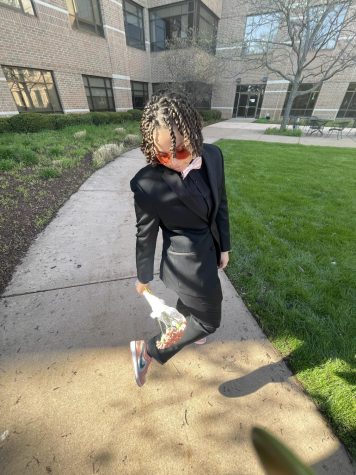 Senior Kylie Gill looked effortlessly sharp in her classic jet black suit. Peachy pink accent Nikes, bow tie and heart-shaped sunglasses were the perfect accessories to emphasize the suit's timelessness. Her personalized take on a classic look made it a favorite of the night.
Hannah Harrison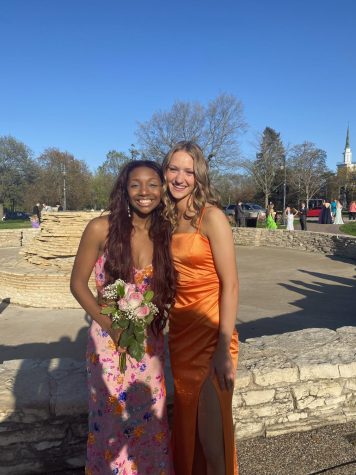 Perfectly sweet and bright, senior Hannah Harrison brought a massive nostalgia wave with her stunning y2k-inspired gown. The blush colored slip dress was adorned with candy-colored beaded flowers in orange, indigo, turquoise, pink and violet. Her cascading red curls channeled those of a mermaid, completing the perfect childhood dream prom look. Here, she poses with senior Adelaide Wolfe, described below.
Adelaide Wolfe/Carson Knebel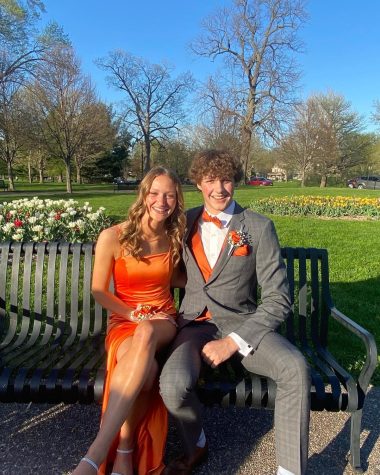 Senior Adelaide Wolfe's silk slip dress screams hot girl summer. This cutie turned heads in her electric clementine look with senior Carson Knebel completing the pair in a matching orange vest and bowtie. The pair was apriCAUGHT stealing the show with their citrusy look.
Congratulations to everyone who celebrated prom this season! Everyone looked beautiful and hopefully felt like royalty. The magical night of Hollywood Golden Glamor was certainly one that will not be forgotten any time soon.