One issue after another with financial aid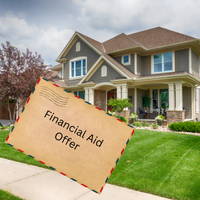 Millions of seniors patiently await their financial aid letter come December. This letter can determine where a student goes to school, if at all. They all depend on the letter to get their college education. As the days go by, anticipation builds until they soon realize that their financial aid package is late.
The feeling of defeat goes through their minds thinking of every bad outcome possible—the school doesn't want me to send the package to me, It got lost in the mail, It got rescinded. 
Financial aid letters have been delayed all over the world. Students were told they would receive their package by Dec. 1 but weeks have gone by and they still have no information on it. Some students even contacted their advisor to get updates, but all they were told is that they should be sending it out shortly. 
Senior Hayden Evans waited weeks to receive her letter. She was one of thousands of high schoolers who were told they  would receive it by Dec. 1 but did not. After a week went by,she checked in on the status and was told they were being sent out shortly. Weeks after no letter, Evans began looking into other options— finding other colleges to apply to and almost giving up on her dream.
Over two weeks after she was supposed to receive the letter, she finally received it, but it wasn't in plain sight. It was hidden in her spam email. "The whole situation was just really frustrating. I started to lose hope in it all together but am now relieved that I found it. I just wish it would have been a little less stressful of a situation," Evans shared.
When students finally do receive their financial aid package, it is often difficult to read. Information is not clear and hidden within information. 
This causes conflict for many students when trying to compare different packages between colleges, making it nearly impossible to find the information needed. Labeled in different categories and hidden within the fine print, not making it easy to find the information. It also doesn't help those who need it the most to be not as educated in this field get the proper information. 
This package is put together to help those in need afford a good education but the type of people these long, wordy financial aid packages are supposed to help are the ones being isolated.
In some cases this has even caused students to pick a different school that they weren't as interested in or pay more than they can afford because they were unsure of the actual cost. 
The documents are marketing material, showing enticing numbers that students want to see which draw them towards that college. In reality, there is fine print to those numbers, resulting in other fees the student needs to pay. An example of this would be, some numbers are bolded (you got a $20,000 scholarship) while some numbers are missing (it costs $70,000 a year). 
Further investigeation into the  U.S. Government Accountability Office (GAO) revealed that the vast majority of colleges—91%—did not include an adequate net price, which is the amount of  out-of-pocket money the student will need to pay to attend, including through loans. More than half of universities in the US did not itemize costs and about a quarter did not provide any information about college costs in their financial aid offers. It only listed aid that they would be eligible for, but not the circumstances that go with it. 
The leader of GAO research Melissa Emrey-Arras stated, "This is not an issue affecting a small number of colleges or a small number of prospective students and families," Emery-Arras has a goal to make a change in this system to make it more student and family friendly. "This is an issue that is affecting 91% of colleges in the United States. We think that Congress needs to require colleges to provide this clear and standard information to prospective students and their families." 
From delays in packages to lengthy, confusing documents, the financial aid process has led to increased stress among seniors. In response, people are advocating for the financial aid process as a whole to be reworked.