Mother's Day gift guide
Mother's Day is right around the corner, and it's important to take this time to show moms they matter. They have done a lot, and most of their work probably goes unappreciated. Many people have experienced the struggle of asking their mom what they want for their special day, and being told, "All I need is your love," or "Surprise me". Below is a gift guide for the mothers that don't tell you exactly what they want, so that students are sure they are giving their mom a heartfelt gift they will always remember.
Gifts for the "All I need is your love" mom:
Plan a day of fun family activities
Sometimes all moms want is for the family to spend time together. Whether this means family board games, a bike ride, or attending a sports event, moms everywhere will appreciate the effort and enjoy getting to do something she enjoys with the people she loves.
Make a homemade family dinner
Like stated before, most moms may just want to spend time with their loved ones. A great way to do that is to share a meal together. What would make that meal even more special, is if one made it themself. Great recipes can be found at the links below. Make Mom's favorite dish, and make sure to leave room for dessert.
http://www.food.com http://allrecipes.com http://www.myrecipes.com
Homemade presents were cute when students were young, but as they've gotten older, making presents is still a thoughtful and heartfelt gift. There are different types of gifts that one can create, from handmade art, to creative decor for the house. There are many examples and how-tos at the link below. Also included is a video that shows how to make quick and easy DIY gifts for mom, that only cost around five dollars to make.
http://www.countryliving.com/diy-crafts/how-to/g771/mothers-day-crafts-0509/?slide=1
https://www.youtube.com/watch?v=eqy_zc-Iq7I
Gifts for the "Surprise me" mom:
A great present for mom, is a meaningful piece of jewelry. Jewelry with all of a family's birthstones on it, is a great way for one to show Mom they care. With this personalized jewelry, Mom will be able to keep the family close to her heart. There are options ranging from necklaces to rings at the link below, or at any local jewelry.
http://www.zales.com/rings/mothers-rings-family-jewelry/family.jsp?categoryId=2115500
Moms work hard all day long to make sure their family is happy and healthy. A good way to try to repay her is to help out around the house. A unique present for one's mom is a homemade coupon book. Create a coupon book with coupons like, "Good for one free vacuum of the house," or "Good for one run to the grocery store". Coupons can be tailored to the different types of chores you are able to help out with. Mom will appreciate the extra helping hands, and the free time she will be able to have.
Moms love documenting their children's lives through things like scrapbooks. Whether one wants to hand-make a scrapbook, or create one digitally at a site like shutterfly.com, Mom will appreciate the keepsake. Consider creating a scrapbook dedicated to pictures with Mom and the family, or maybe combine all the photos from a recent family trip. Mom will treasure the gift and the memories forever.
About the Writer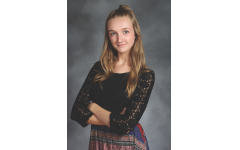 Kinsey Paulson, Arts and Entertainment Editor
Hi my name is Kinsey Paulson and I'm a senior here at PVHS! I am very excited to be working on the online newspaper as the arts and entertainment editor,...