Spartans bury the Bulldogs
On Tuesday, October 1st, the lady Spartans took on cross-town rivals, the Bettendorf Bulldogs.
The volleyball team hosted the Bulldogs in a regular play game. So far the varsity team has a record of 16-3, but an undefeated record in the conference. Every chance the Spartans get to play against the team across town is another chance to prove their playing abilities.
The Spartans went into the game with a positive outlook. Coach Amber Hall wanted the team to approach the game like they would any other. "We knew they were a good team and that we had to play strong together," explained Hall. 
Hall and freshman Chloe Cline both agreed that they were excited to play against a competitive team. "We knew we could beat Bettendorf, and we were looking forward to having some good competition for this game," said Cline. Hall agreed, adding "The game was a good opportunity for the girls to play at that higher level of competition." 
The Spartans played a well-rounded game with many positive aspects. Going into the game, Senior Sara Hoskins knew the team needed to have adequate ball-receiving skills to match Bettendorf's serves. "One of the positive things that we did was being able to get serve balls up for our hitters," Hoskins also added, "our hitters did a really good job of placing the ball where the Bettendorf players weren't at."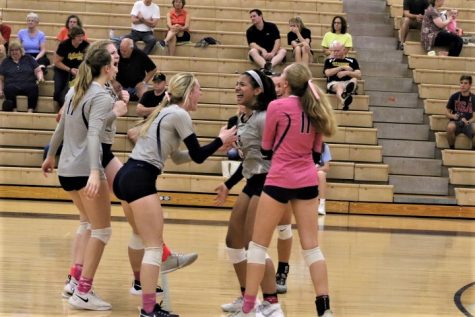 Cline agreed that the team managed to put the ball away well. "We came with high energy, that energy helped us to play consistently throughout the duration of the game," Cline said. The team managed to shut out Bettendorf fairly quickly in the first two sets.
The third set came down to only a few points between the Spartans and Bulldogs. Hall believes that for the next game the team can work on serving with more aggression. " We were serving consistently against Bettendorf, but we can put some more power behind the ball," Hall said. 
Adding another win to the already solid record is giving the team more confidence. Cline shared, "This win especially helps with our confidence because beating a state-ranked team such as Bettendorf shows us what we can do." Bettendorf is currently ranked 10th in class 5A. "This game will help prepare us for future conference games and games leading to the state tournament," shared Hoskins.
The Spartans will travel to Sterling Friday, October 4th for an out of conference match against the Golden Warriors.