Trump's tax returns: why should I care?
A Manhattan appeals court rejected President Donald Trump's plea to deny a subpoena regarding his tax returns, meaning he has to show his last eight years of tax returns.
The subpoena is aimed at his accounting firm rather than the president himself, avoiding any Constitutional crisis and the president's claim of being immune from any criminal investigation. If the firm loses the court case, it appears the firm will be legally obligated to hand them over.
The last six presidents have all publicly released their tax returns, a factor that has in the past changed their public perception. "It really restores confidence in the public if the president willingly hands over their tax returns," said senior Kiran Marla, "As a future voter, I will be taking this reluctance to mind when it comes time to vote".
The president's unwillingness was also brought up at court. "While we do not place dispositive weight on this fact, it reinforces our conclusion that the disclosure of personal financial information, standing alone, is unlikely to impair the president in performing the duties of his office," said Appeals Court judge Robert Katzmann.
If the case were to be taken to the Supreme Court, as Trump and his lawyer Jay Sekulow have indicated, there is a chance that it will get overruled since the Supreme Court consists of five Republicans, giving it the majority over the Democrats. This is detrimental to Trump, as it is likely that they will side with the president.
This court ruling and the upcoming trial could have implications on Trump's presidential hot seat and the upcoming 2020 presidential election.
In the past ruling, the judges did not rule on Trump's self-declared immunity status, something that has raised questions among the public. His position on the matter could violate some of the implemented checks and balances, giving the president more power than intended.
"I think that it is insane that someone can declare themselves immune to crime," said Marla. "Just because someone is president does not mean they can be over the law."
This could mark the end of Trump's presidency if any illegal activity is discovered in the tax returns. With many upperclassmen at PV being able to vote next year, students might be part of an election where the incumbent candidate is facing criminal charges, or the first voters in history to vote after an impeachment.
About the Contributor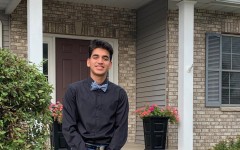 Darsh Balani, Technical Site Manager
Darsh Balani is a Technical Site Manager for the Spartan Shield. He loves playing tennis and basketball in his off time. Darsh enjoys playing Minecraft...