Chorally captivating: Pleasant Valley choirs take steps towards normalcy
Anna Thorne, Arts & Entertainment Editor
February 15, 2021
While this year has made it difficult for many activities to be carried out, choir members have struggled to find ways to safely perform their art given the safety regulations put in place due to COVID-19.
Studies have shown the dangers of singing in groups, especially without proper precautions. They have come to the conclusion that it poses increased health risk to participants.
The droplets and aerosols released during singing can be similarly compared to coughing and sneezing, therefore, there were a handful of outbreaks of coronavirus as a result of singing in large groups without ideal protocol.
In Berlin, Amsterdam and Washington state, there had been reports of attack rates as high as 75.6, 78.5 and 86.9 percent. With that being said, proper social distancing and mask usage significantly helps to reduce these rates and allow for continuation of choral music. 
These factors played a role in choral director Meg Byrne's decision in attempting to proceed with the school year. 
"As we planned our performances, we had to consider all safety precautions for our students and staff," Byrne shared. "We've needed to use social distancing while providing enough singing space for our students, and limit the amount of time that singers are in a space, to allow ventilation to adequately cycle. And, of course, we are masked." 
She recognized the need to continue building a community within each choir, and with dedication to keep everyone safe, she succeeded. "We've provided our students with every opportunity possible to learn and perform as they would in a "normal" year, and I think that's pretty amazing. Considering many schools haven't performed yet, I feel we've been very fortunate."
Although this year has been an extremely challenging adjustment for the choral district as a whole, individual students feel this shift on a personal level. Rachel Lyon, a senior involved in chamber choir at Pleasant Valley, thoroughly touched on the difference in atmosphere in comparison to past years.
"Overall the sense of community remains, but it is still different. I know when I was just starting out in choir, I really enjoyed connecting with upperclassmen, but it's harder to bond with our circumstances now," Lyon digressed. 
She has always been an avid, active member of choir, and this year has proven to be difficult to achieve such connections. Despite that, however, she remains optimistic. "I'm looking forward to the spring concert. I am hopeful and it will be an opportunity to showcase the growth we have achieved this year."
The impact of the seemingly never-ending pandemic has been troublesome to say the least, and with its significance hovering so strongly over activities such as choir, many necessary adjustments have had to be made.
"We performed distanced throughout the theatre and recorded each concert," Byrne explained. Although these strategies have had their difficulties, students were involved. "Each necessary precaution meant a traditional concert of up to 65 students on choral risers was not possible. That being said, we've been able to rehearse in class every day, and we've had three concerts."
Throughout this process, progress continues to be made. For the first time all year, the four Pleasant Valley choirs were able to perform for each other live at the annual district choral festival. Although this event was different from what is usually done, it held special importance for many students like senior Enrique Riojas Berzaluce. 
"I had not seen any of the other choirs in a long while, and there was a true sense of camaraderie among us. We were not really performing for anyone other than ourselves," he said. "It was a very fun experience overall, and as a senior, I think it was a gift to see everyone sing together again."
Alongside the students, this recent performance provided each choir director with joy. "They sang with so much energy for one another, and joining them together at the end was especially heartwarming," Meg Byrne reflected. "It gave our students something they hadn't received since this time last year; it brought our community back."
Through dark and challenging circumstances, the bliss and wonderment of music and its community has remained stagnant, and allowed for a sense of normalcy. Although this year has been difficult, innovative and creative strategies have allowed for continuation of the activities that hold deep importance to many.
About the Contributor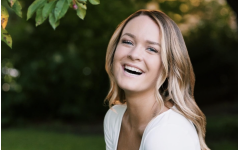 Anna Thorne, Arts and Entertainment Editor
Anna Thorne is currently a senior at Pleasant Valley and has a love for friends, family and all things summer. Other than her role as the Arts and Entertainment...