Restaurants to eat at for prom
With prom being right around the corner, on May 8th, many PV students are planning their evening. This article offers different restaurants in the QC to dine at with your prom group. Save the stress of planning and create some restaurant plans off of this list!
Lunardi's
Lunardi's is an Italian restaurant located by the North Park Mall in Davenport. They offer a variety of dishes including, salad, pizza, chicken and seafood, among other traditional pasta dishes. Lunardi's is a fairly small restaurant, but it can fit a medium-sized prom group. By offering many different types of food, Lunardi's is great for groups with different tastes.
Biaggi's
Biaggi's is another Italian restaurant that is located closer to PV than Lunardi's. This restaurant has a larger area for dining, so big groups can dine at this restaurant together. Biaggi's offers steaks, seafood, pasta, pizza and other Italian entrees. Their close location, wide menu variety and large seating area are all benefits to choosing Biaggi's for your prom dinner. 
Steventon's
In LeClaire, Steventon's is a steakhouse with a hilltop view of the Mississippi River. On their menu there are steaks, seafood, chicken, soups and salad. Compared to the other restaurants on this list, Steventon's menu is significantly limited. Steventon's has a large dining area with both indoor and outdoor seating, allowing for large groups. 
Johnny's Italian Steakhouse
Johnny's Italian Steakhouse is the farthest away from PV, located in Moline. Although this restaurant is farther away, it offers a wide variety of food including salads, sandwiches, pastas and steaks. Johnny's Italian Steakhouse has a moderate amount of space, so larger groups would be able to dine together. 
The J Bar
Located in Davenport, The J Bar is a larger restaurant located inside of the Holiday Inn. This restaurant has a more limited menu consisting of some entrees, sandwiches, burgers, salads and pizza. Because it is connected to the Holiday Inn, The J Bar has extra space for larger groups to socialize and dine — great for large groups. 
Thunder Bay Grille
Thunder Bay Grille, located in Davenport, is an American restaurant offering steaks, seafood, chicken, pasta, salads and burgers. This restaurant also has a large dining area that is able to accommodate to large groups, beneficial to prom groups dining together. Although Thunder Bay Grille is somewhat out of the way, there is a large selection of dishes and plenty of space to dine on the night of prom.
Duck City Bistro
Located in Downtown Davenport, Duck City Bistro is an American restaurant. The interior is moderately sized and would allow for a medium to large prom group to dine. They offer steak, chicken, salad, sandwiches and seafood, but their menu is fairly limited. This location offers more upscale dining from a chef inspired from multiple cultures across the world.
About the Writer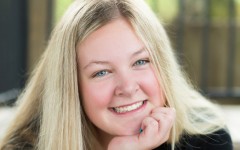 Kendall Jarvis, News Editor
Kendall Jarvis, senior, is the News Editor for the Spartan Shield. She is involved in dance after school and is a member of the National Honor Society....