Boys' tennis sweeps MAC as their success continues
On May 2 at Bettendorf High School, the boys' tennis team won the MAC championship for another year in a row. They crushed the competition going a perfect 6-0 in singles and 3-0 in  doubles. 
The team is once again nearing the postseason and is hoping to continue their run of success. They had a solid finish last year, but the senior-dominated team will be hoping to finish top of the state this time around. Winning the MAC is essentially a stepping stone for this tennis team. 
"There's no doubt that this win means a lot to us," said senior varsity player Nathan Barlow. "However, this is just the beginning for our team this year. This win gave us all the confidence we need to continue winning and competing through state." Barlow had a perfect tournament, not losing a single game, which is a very impressive feat.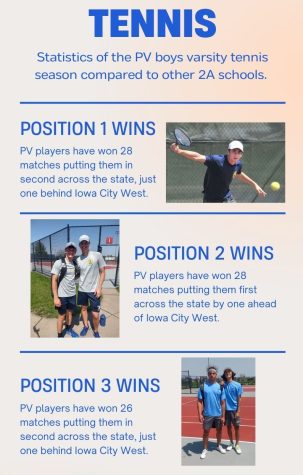 The MAC tournament offered a platform for both the singles and the doubles to get practice in a tournament setting before districts and state. "As the competition continues to heat up for us going into qualifying and state, it was important for us to win the MAC as a way to prepare," said senior varsity player Brady Adams. "We are all looking forward to seeing what we can do when the competition matches our abilities. We certainly feel ready and excited for what is in store for us and the team." Game-like practices like this will be essential for the team as they work towards state. 
Evidently, all of the practice, games and tournaments are all leading up to one thing: state. The team is eager to get back and compete for first place. "Our goals looking forward are simple: get all six varsity guys to qualify for individual state, and from there bring home that state title," Adams said. The boys' tennis team is once again in a place to compete for the state title. 
The coach Randy Brockhage believes that the effort by the team will be what drives them to success this year. "We have a lot of confidence right now, but we had that last year too. Now, our goal is to succeed at the next level by peaking at the end of the year." There is a lot of hype surrounding this team as they work towards winning the elusive state championship.