Improv nights coming soon
Hang on for a minute...we're trying to find some more stories you might like.
Pleasant Valley High School's improv teams for this year have finally been determined. The improv program is made up of students who spontaneously create the script as they perform on stage during shows or competitions. It's usually comedy filled, fit to make all ages laugh. After the departure of eight seniors on the varsity teams, new spots opened up and were filled by the end of the year last year. A whole team actually left and a whole new one with a new name was created. Now the varsity competition teams are Kakistocracy (which is new), WACIT, and Hatrick, along with a JV team made up of 6 students.
Two of the seniors who graduated are continuing improv in college. Olivia Peters attends University of Iowa and made their improv team, the Paperback Rhino. Similar to Peters, Keshav Wagle made the improv team his freshman year of college as well, at Rice University. Francis Dunbar, the improv coach, was very happy to speak about two very talented and hardworking students continuing improv at the college level. He also mentioned that more of the graduated seniors are currently trying to make their college improv teams.
Mat Bolin, a junior, is one of the students that filled an open varsity spot. "Since the beginning of my sophomore year I was on JV, then when I tried out at the end of that same year I ended up making Hatrick." After only one year on JV, he is now on the varsity Hatrick team for this year's shows.
The board of doom is usually a tradition for Improv at the highschool. Bolin described what the board was. He said there would be 9 envelopes numbered 1 through 9 on a board. The audience would choose a number and inside the envelope was the improv game they had to play. But this year the board of doom is gone and Bolin can't wait to perform without it.  "I am extremely excited for our first improv night of the year." He said.
Dunbar recently got his JV team put together. The kids who made the cut are Taze Wilson, Laci Roberts, Caroline Sierk, Max Broussalian, Julia Leach, and Erica Heiselman. Dunbar said, "the interest is alive and well and the JV team is a great turnout." He cannot wait for the improv nights to begin and although there is no set date yet, it'll be here soon enough.
About the Writer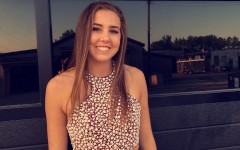 Hope Sickels, Staff Contributor
I'm Hope Sickels, a part of the 2019 class. I'm a Staff Contributor for the Spartan Shield Online this year. I've attended PV since kindergarten and...