Pop music moves to please the "online youth culture"
Hang on for a minute...we're trying to find some more stories you might like.
In a little over one week since its release, Billie Eilish's new album "When We All Fall Asleep, Where Do We Go" rose to number one on the Billboard Top 200 albums charts on April 7.
The music sensation debuted the new album on March 29. Eilish is setting records as one of the youngest artists, at the age of 17, to achieve this honor, but also is noticed for accurately portraying teenage life.
Eilish's music stands out among the rest since it is popular among many, but also strays away from what most "normal" pop music should be. Her music can be described as taking pop music elements elements of pop music and merging them with darker themes throughout. Eilish also finds inspiration from hip hop and rap and its influence on modern day music.
Senior Lauren Groenenboom recently began listening to her music after the release of the album. "Just upon hearing people describe her, I didn't think I would enjoy her music, but she's quickly become one of my favorites," Groenenboom said.
Groenenboom is one of many listeners who had a similar initial encounter with Eilish's music. Eilish has connected with her audience ever since she released it , as she rose to popularity when releasing her first big hit, "Ocean Eyes", at the age of 15 years old.  "She's only 17 [now], so it's very easy for students the relate to her music," Groenenboom stated.
Though a strong vocalist, Eilish also catches the attention of fans as she does not fit into the mold of previous teenage pop stars. Eilish has great control over her music as well as her look and keeping family as a priority. She has produced all of her music in her small California home with her older brother, and both parents travel with her on tour.
Her new album is widely viewed to be an accurate reflection of life as a member of "Gen Z". The new album speaks to the "online youth culture" by incorporating raw emotion, comedic relief with clips from the television show, "The Office", and incorporating new features on Spotify such as the "Billie Eilish Experience".
"She's very bubbly and has an energetic personality that comes through and makes her likable as a person and an artist," Groenenboom said. Regardless of the varying views on Eilish's music, it is hard to deny her prevalence among students in the school. Her personality, in the end, not only normalizes her music, but provokes a connection to her listeners.
About the Contributor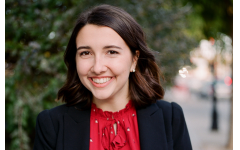 Natalie Murphy, News Editor
Hello! I'm a senior at PVHS this year. Some of my favorite things to do are help lead Spartan Assembly and our NHS chapter, sing in the Leading Tones...